Congratulations to: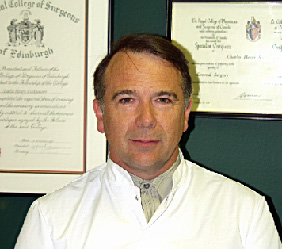 Dr. Charles H. Scudamore (General Surgery) who has been appointed to the Order of British Columbia. The Order of British Columbia recognizes people who have served with the greatest distinction and excelled in any field of endeavour benefiting the people of the Province or elsewhere. The Order represents the highest form of recognition the Province can extend to its citizens.
The following is the award citation from (http://www.orderofbc.gov.bc.ca/) Charles Scudamore is one of British Columbia's foremost physicians, whose outstanding work is extending the lives of British Columbians diagnosed with serious cancers while working toward the day when there is a cure.
A leading surgical expert in liver transplantation, hepatobiliary oncology and trauma, Dr. Scudamore is staff surgeon at Vancouver General Hospital and B.C. Children's Hospital, surgical director of the B.C. Liver Transplant Program, and developed Hepatobiliary and Pancreatic Surgery at the University of British Columbia. In addition, Dr. Scudamore is the incoming president of the North Pacific Surgical Association. He is also a tremendous researcher, teacher and caring physician.
Dr. Scudamore is an expert on the early recognition of pancreatic cancer as well as advanced colorectal metastases to the liver. He has led efforts to increase the number of liver transplants performed in British Columbia. In 2012, there were 65 transplants, up from the then-record 2011 total of 56. Each of these transplants marks a new beginning of a patient's life.
Dr. Scudamore's research – including the creation and support of the British Columbia Pancreatic Research Network – and other efforts to improve outcomes for patients with pancreatic cancer offers hope to the approximately 380 new cases diagnosed each year in British Columbia.
Working above and beyond the call of duty, Dr. Scudamore is helping patients live longer and more productive lives. In recognition of his outstanding contributions and service to fellow citizens, he was a recent recipient of the Queen Elizabeth II Diamond Jubilee Medal.
posted : 2013-September-3